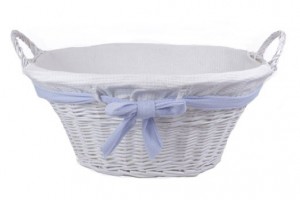 114413 Rattan Laundry Basket
If you are looking for a reliable Rattan Laundry Basket supplier with high quality, the best price and excellent service, you have come to the right place!
Our Rattan Laundry Baskets are made of Rattan – the natural material that is always available in Vietnam – by master craftsmen. So, they are safe, eco-friendly, strong and durable. The house  is not perfect without the Rattan Laundry Basket. You and your customer will never complain about the quality of our Rattan Laundry Basket.
Why could we give you the best price? The reason is we are not only the manufacturer but also trading company. We control all processes from the input material of production to selling of finished products. All production costs are always the minimum and obviously, the quality is still ensured. Therefore, do not doubt it if we give you the best price.
Our philosophy is "your satisfaction is our success". As you know, the handicrafts change styles quickly. Besides selling available bamboo bowls, we are able to customize them to suit your needs and placing your logo on them. The more difficult product, the more we want to do. All of your requirements such as product, packing, shipping, payment, we always listen to you, find the best way to satisfy you and provide you the highest possible benefits. We would like to cooperate with you in a long term.
Do not hesitate to contact us at any time, just email or call us right now and tell us what you want. We are here to serve you!
How to contact us?
Email: info@pefso.com
Tel: +84 46292 0360
FAQ:
Q1: What is your MOQ?
A1: 1000 pcs per style
Q2:What is the lead time?
A2: Normally, 30-45 days in busy season.
Q3: Is it all right to make customer's own brand name?
A3: Yes, that's all right to make their own brand name.
Q4: How about payment terms?
A4: T/T; at least 30% of the total contract value must be paid as advance payment and the balance against copy of Bill of Loading or before shipment.
Q5: Where is your port of loading?
A5: Hai Phong Port,Vietnam
Q6: What is your company' s production capacity?
A7: Pefso has been in handicrafts field for more than 7 years. Annual output is 8000-10000 pieces per month.
Q7: How to control the quality of all products?
A8: We have special QC Dept in charge of quality of all products.